How often do you think of the legacy you want to leave once you move on from this world? For those who are older, it doesn't seem like an odd question as they may be reaching retirement age and are starting to think about where their money will go when they're gone. However, for younger individuals, the word 'legacy' may not have even entered their vocabulary yet. I encourage all those I work with, regardless of age, to begin thinking about their legacy now both in terms of money and how they want to be remembered by their loved ones once they are gone.
Identifying the details of the legacy you want to leave behind can seem like a daunting process. However, by utilizing your natural tendency toward curiosity, you can look more deeply into yourself and your goals to make the answers much clearer. Here are some suggestions I've used with my own clients that have been helpful in nailing down their desired legacy so we can all work toward a mutual goal.
Make Sure Your Legacy is in Line with Your Spouse's
Because many couples have a tendency to fight about money, they often stop talking about financial matters at some point during their marriage. If you are married, you must have the tough conversations about legacy now. This becomes even more important if you have children—either together or from previous marriages. If you have two very different ideas of the legacy you want to leave, it's a recipe for hurt feelings, disagreements, and overall disaster. If financial discussions are a minefield for you and your spouse, you may want to have initial talks in the presence of a counselor or your financial advisor who can mediate and help keep your conversation on track.
Determine Retirement Goals
Your retirement goals and legacy are inextricably linked. How much you spend and what you do in retirement has a direct impact on the legacy you and your spouse will be able to leave. If you haven't determined your retirement goals, it's very difficult to move on and hone in on your legacy goals. Talk with your financial planner about the lifestyle you and your spouse want to live in retirement so he or she can help you determine what you need to do now to ensure you can cover this as well as keep money in reserve to leave to those you love. 
Take a Look at Your Values
Often, my clients don't have to look much further than their values to determine the details of the legacy they wish to leave. When you have developed strong, meaningful values, you and your financial planner can ensure they match up with your desired legacy. For example, if philanthropy is one of your core values and your legacy does not include leaving any of your wealth to charity, you have a dissonance that needs to be addressed. Your values are a huge part of your 'why' both for living now and retiring later and play an integral part in how you want to be remembered after you're gone.
Your legacy is what you will leave behind and will have a large impact on how those who matter to you will remember you. If your advisor is not talking to you about the legacy you want to leave early on in your relationship, it's a sure sign that you may need to dump him or her in favor of one who sees the bigger picture. If you'd like to talk more about defining your legacy, please reach out so we can talk.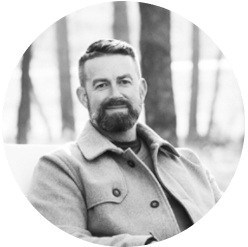 Patrick Tucker, the owner of True Measure Wealth Management, has over 20 years experience in the industry and has spent the last 15 years learning the ins and outs of the fee-only advisory business. He focuses on client behaviors and what 'wealth' means for each individual client to provide care-giving plans that lead to a mindful fulfillment of financial goals. A lifelong learner, Patrick uses his continued knowledge to become a valued partner for his clients and help them explore the wisdom of true wealth.