Ending a relationship is never fun. No matter how miserable you've been in the union or how free you will now be after its end, there's still the discomfort and fear that comes with any major change. Though your relationship with your financial advisor may not be as fraught with emotion as a romantic relationship, it's still an important part of your life and you need to listen to your conscience if it's telling you the time has come to part ways. Do you think it may be time to dump your advisor? Here are five reasons why a breakup may be in order.
He Ignores You
How responsive is your advisor? Do you find you call three or four times before you get a return call? How difficult is it to book a meeting with him? Do you feel like you are chasing after him just to get some advice or to have a question answered? You should never feel like you are being ignored by your advisor. There are a few reasons your advisor may be ignoring you: he may feel you aren't worth his time, he may have overloaded his books with too many clients, or he simply feels he can get to you whenever he feels like it. Whatever the reason, you have the right to an advisor who is responsive to your needs.
She Tries to Sell You Products
Do you feel pressure from your advisor to buy certain products? If so, you might want to look for a different advisor who instead focuses on helping you with your investment behavior. A financial planner should not be a salesperson. Many have been forced into this role by large companies that operate on a commission basis. However, more and more advisors are wising up and realizing that the focus should be on the client—not on how far they are from hitting their next bonus. If you feel pressure to buy, you should consider looking for an advice-based advisor who is more interested in you than your portfolio.
He Doesn't Clearly Explain Terms to You
Do you understand your investments? It's vital that your advisor is taking the time to explain clearly to you what is included in your portfolio. Do you know tax consequences? When and how you can sell or trade stocks? The expected rate of return? If you feel any details are being glossed over or your questions aren't being answered, it should serve as a red flag.
She Incites Fear
I always encourage my clients to stop watching the financial news. Why? Because it incites fear. If your advisor is encouraging you to watch the financial news or continually brings up troubling world events or dips in the market, she is playing on your emotions and attempting to force you to make emotional decisions. Your advisor should be a mentor and should offer a safe place for you to go when you're feeling anxious about your finances. If she is instead causing you to be more fearful, it's time to make a change.
He Doesn't Seem to Know You at All
Many financial advisors put the focus where it doesn't belong when it comes to their client relationships. Because they work in the financial field, they think they need to keep their eye on the money and not the actual client. This is a mistake. There is no way your advisor can help you achieve your retirement and other goals if they don't know who you are as a person. Ask yourself a few quick questions such as: Does my advisor know my wife and kids' names? Does he know my hobbies and how I like to spend my disposable income? Does he understand what an ideal day in retirement looks like for me? If you can't answer yes to these types of questions, it's likely your advisor hasn't taken the time to get to know you.  
Breakups are never easy, but sometimes they are necessary. If you feel your financial advisor is treating you in any of the above ways, it may be time to rethink the relationship. If you'd like to talk more about working with an advice-based advisor, please reach out. I'd love to share what I do with you.
[convertkit form=5060596]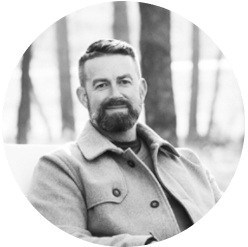 Patrick Tucker, the owner of True Measure Wealth Management, has over 20 years experience in the industry and has spent the last 15 years learning the ins and outs of the fee-only advisory business. He focuses on client behaviors and what 'wealth' means for each individual client to provide caregiving plans that lead to a mindful fulfillment of financial goals. A lifelong learner, Patrick uses his continued knowledge to become a valued partner for his clients and help them explore the wisdom of true wealth.