You've been preparing for retirement the majority of your life. Planning for your goals and dreams and longing for the day where you can experience the joys of life without a job or business to worry about. Happiness in retirement depends on the person. For some, it's living the rest of their days on a golf course and for others, it's traveling the world. You might be planning for living expenses in retirement but it's also important to plan for those experiences and hobbies that are going to bring you joy and happiness in the last phase of your life. If you're working with a financial planner, it may be in your best interest to consider more than just your cost of living.
Memberships
There are plenty of memberships and groups to join in retirement. Maybe you want a club house membership so you can golf every day. It's also important to think about fitness and health. Joining a YMCA is a good way to stay social and active. Brain function is also something to consider. College classes aren't just for youngsters and can help your mind stay sharp.
Traveling
Seeing parts of the world that you've never experienced before is exhilarating. And as exhilarating as it might be, it can also be expensive. Deciding where you want to travel and what you want to experience before retirement will help your retirement nest egg last. Last second, spur of the moment trips are fun for some, but successful financial planning is goal-focused and plans driven. It never hurts to be prepared and it might help you get organized and ready for retirement with a traveling plan.
Family
Modern day retirees often times have family spread all over the United States and even the world. Grandbabies are born, weddings, and sometimes the unfortunate case of funerals present themselves. Putting aside funds for these unexpected family milestones will help prepare you for retirement. Questions like "what's my number," and "do I have enough," can more easily be answered when you've planned for even the unexpected.
Retirement should be fun! You've worked hard all of your life and you deserve to travel, golf, play tennis, swim, focus on health and love, and spend your money however you see fit. Money definitely can't buy you happiness but having it can provide you with the experiences, hobbies, and connections to friends and family that do bring you joy.
Continue reading "Tips on Becoming Your Best Self"
For more retirement insights, subscribe to our newsletter!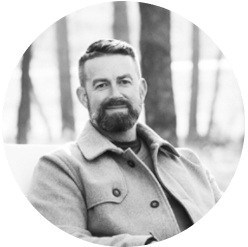 Patrick Tucker, owner of 
True Measure Wealth Management
, 
has over 20 years experience in the industry and has spent the last 15 years learning the ins and outs of the fee-only advisory business. He focuses on client behaviors and what 'wealth' means for each individual client to provide caregiving plans that leads to a mindful fulfillment of financial goals. A lifelong learner, Patrick uses his continued knowledge to become a valued partner for his clients and help them explore the wisdom of true wealth.