According to the National Center for Families Learning, over half of all parents dread back to school time. As an independent financial advisor who works with a lot of older clients, I know that this isn't limited to parents who still have children in school. There's just something about the fall that feels too much like stuffy classrooms, test anxiety, and a loss of freedom. As a proponent for lifelong learning, I'm always saddened when I hear about people experiencing negative feelings about this time of year.
Instead of focusing on society's meaning of 'back to school', which may have plenty of negative connotations from their past, I encourage my clients to focus on being students of life and embracing this as a time to grow. When you stop learning and growing, you are in danger of stagnation or getting overly involved in the lives of your family, clients, or co-workers. However, when you become a lifelong learner, you are constantly faced with new and exhilarating challenges and never experience the insidiousness of boredom or discontent. Here are three ways to celebrate back to school time as a student of life.
Follow Your Curiosity
When you foster and follow your curiosity, a whole new world opens up to you. Most of us have plenty of natural curiosity, but we've stifled it over the years so we can focus on what we think is 'important'. Now is the time to tap back into that curiosity and find that glimmer of what gets you excited. Maybe the world of art has always intrigued you and you can pursue either collecting art or creating it yourself. Or perhaps a remote part of the world has always caught your interest and you can use this time to learn more about it or even travel there depending on your time and resources. You can also tap into your curiosity to learn more about the people around you. There are so many stories and information at your fingertips every day if you just take the time to be curious and listen.
Use Your Wealth for Learning Opportunities
Having disposable income can open a lot of doors, not the least of which are increased learning opportunities that can help you be a better employer, spouse, and overall happier individual. Just because you may have a stable career and set hobbies doesn't mean it has to stop there. You can take some classes on cooking, flower arranging, or woodworking to expand your hobby horizon, or you can simply buy some books on interesting subjects so you can increase your overall knowledge. Whenever you spend money on learning opportunities, it's never wasted. Your return on the investment will come back to you tenfold.
Understand How Learning Contributes to Fulfillment
I generally recognize four habits as consistent among the (happily) wealthy: contentment, generosity, a humble heart, and connection. All four of these habits have a component of learning. When you see yourself as a student of life, you connect more easily with others, you're happier and more willing to help, and you learn that you don't have all the answers. These all lead to a mindset of opportunity, growth, and appreciation that guarantees a feeling of happiness and fulfillment.
Even though summer is wrapping up and people nationwide are stressing out about back to school time, I encourage you to change the way you look at this time of year and see all the opportunities it presents. When you focus on being a student of life, the fall suddenly becomes a magical place full of ways to thrive and improve. If you'd like to talk more about using your wealth to become a lifelong learning, please reach out so we can talk more.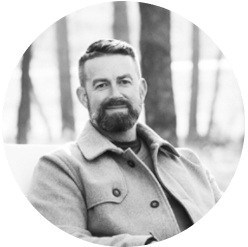 Patrick Tucker, the owner of True Measure Wealth Management, has over 20 years experience in the industry and has spent the last 15 years learning the ins and outs of the fee-only advisory business. He focuses on client behaviors and what 'wealth' means for each individual client to provide care-giving plans that lead to a mindful fulfillment of financial goals. A lifelong learner, Patrick uses his continued knowledge to become a valued partner for his clients and help them explore the wisdom of true wealth.