A commitment to lifelong learning is one of my core values as an advice-based financial planner. Even with all the technology and interactive ways of acquiring knowledge that have become popular, my favorite way of learning is still reading a good book. In 2017, I read 43 books, and I found plenty of new favorites, many of which I've recommended to my clients, colleagues, friends, and family. Whether you are dealing with a major life event such as a mid-life crisis or divorce, are trying to take your business to the next level, or just want to learn more, I highly recommend these books.
Though not all of these were published in 2017, they are still current and have lots of great information in them. I have 12 total books I'd like to recommend and will split them up into four different posts.
Four of My Most Highly Recommended Books
The Subtle Art of Not Giving a F***k by Mark Manson
Don't let the title of this book mislead you. The author tends to give a…well, you know, about a lot of things. However, the point he's trying to make is that a lot of us tend to expend a lot of time and energy on things (and people) that don't really matter. When we do this, we take away from what really matters—caring about our families, our careers, and the other core fundamentals of what make our lives fulfilling. This book is an easy read and, while you may not agree with how many times the F word is used, teaches a valuable lesson about focusing what truly matters.
Relentless: From Good to Great to Unstoppable by Tim S. Grover
Who wouldn't want to hear advice from the personal trainer who helped make superstars like Michael Jordan and Kobe Bryant what they are today? Tim S. Grover is pretty blunt as he describes what separates the great from the just good. He lays out traits such as not letting emotions make you weak, persevering when others are quitting, and thriving under pressure that can be used in any business. There's also some great stories and unique insights into the psyches of the most successful athletes of all times that help get his point across.
Ego is the Enemy by Ryan Holiday
Learning and the cultivation of talent isn't usually impeded by outside forces. We're usually held back by our own egos, as Ryan Holiday convincingly argues in this book. With stories about how legendary figures like Jackie Robinson and Eleanor Roosevelt rose to great heights by conquering their egos, this book helps you see that being too investing in your own 'specialness' can keep you from reaching your dreams.
Do the Work: Overcome Resistance and Get Out of Your Own Way  by Steven Pressfield
This book is all about overcoming self-sabotage and actually getting meaningful work done. If you've noticed, there's a common theme in many of the books I read this year. The enemy to being successful is almost always right in our own heads. This book is great for those who are trying to get a big project accomplished such as writing a book, starting a business, or completing an advanced degree.
I truly believe that lifelong learning is one of the keys to happiness and success. If you're a reader like I am, I encourage you to check out one of these four books and stay tuned for my next group of selections. Have you read a book recently that enhanced your life? I'd love to hear about it! Shoot me an email at info@truemeasure.com.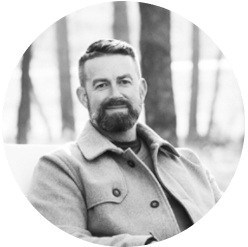 Patrick Tucker, the owner of True Measure Wealth Management, has over 20 years experience in the industry and has spent the last 15 years learning the ins and outs of the fee-only advisory business. He focuses on client behaviors and what 'wealth' means for each individual client to provide caregiving plans that lead to a mindful fulfillment of financial goals. A lifelong learner, Patrick uses his continued knowledge to become a valued partner for his clients and help them explore the wisdom of true wealth.